Causes of renal calculi
Kidney stone disease (KSD) or urolithiasis is a symptomatic disease caused by metabolic disorders in a human body accompanied by formation of calculi in the urinary tract. The average life-long risk of calculi is 5-10%.
The main factors that may lead to KSD are:
The first and most important factor is insufficient amount of water consumed by an individual (normal daily urine production should be at least 1.5-2 liters)
Long-lasting unchanged meals (a diet should be diverse and consist of proteins, fats and carbohydrates).
Inheritance (if you have close KSD relatives, you are at increased risk of KSD).
Genitourinary infection (very often the infection is asymptomatic and does not cause any unpleasant sensations in humans, manifesting itself only by an elevated white cell count as a result of a general urinalysis).
Endocrine disorders of mineral metabolism.
A sedentary lifestyle.
All above mentioned reasons are just major factors but not a 100% ground for development of calculi in a human`s body. Very often individuals subject to all above-mentioned factors do not have calculi and vice versa.
read on
Calculi in kidneys and renal duct
Nausea
It is present in most patients, yet not in all of them
Back pain
Dull aching pain in the right or left lumbar region, which is independent of body position; a patient cannot find a right place for relief
Vomiting
Few know that this symptom may be associated with kidneys, therefore completely different diseases are suspected
Acute low abdominal pain
It may be associated with urination or painful tenesmus, urethrodynia, sometimes radiating in the genital area.
Red urine
It is a very important symptom which you must report to your doctor
Renal colic pain and how to get rid of it
To understand the reasons for deterioration of your condition, you need to know the basic rule – renal calculi do not create an emergency condition by themselves; the main problems arise when calculi block the flow of urine from kidney sinuses and, therefore, launch the inflammatory process.
People are mostly misled by an idea that calculus is something that "scratches" or grows into a kidney. In fact, renal calculus is a site of chronic infection, which may cause unpleasant sensations in the lumbar region. In most cases, calculi lying freely in a renal sinus can be detected by kidney ultrasound or assumed against the elevated leukocyte and red blood cell count of total urinalysis.
A decision on treatment of such calculi is taken individually for each patient based on the size of concrement and clinical picture. Patients may resort to conservative therapy, such as citrate mixtures, unless calculi have blocked a urinary outflow.
read on
Our advantages
We choose a technique for removing calculi from the kidneys based on your individual case,
looking for the least traumatic but most effective way of treatment.
We treat by medical prescription
We address your problem only if treatment is not contraindicated for you
One-day surgery
You return to your everyday life the very next day
Pricing policy
You clearly understand how much the treatment will cost
Safety and comfort
We provide you maximum safety and comfort during treatment
Prescription of medicines
We do not prescribe unnecessary medications and examinations
Results of treatment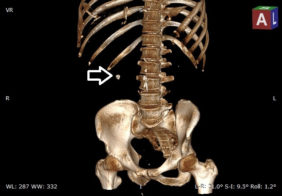 1.8-cm calculus in the lower calyx.
1.8-cm calculus in the lower calyx.
read on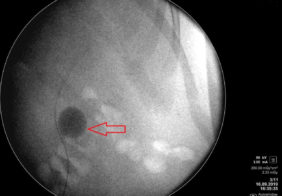 A 2.8 cm calculus of the calyx
A 2.8 cm calculus of the calyx
read on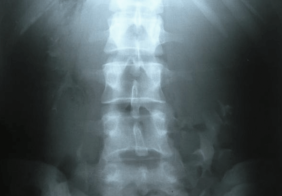 Treatment of coral stone 1 degree right, kidney
Пацієнт Ч. 1974 р. н. Звернувся з скаргами на періодичні болі в правій поперековій ділянці, нудоту, періодичне виділення червоної сечі. Хворіє більше пяти років. Після обстеження встановлено.
read on
Our medical staff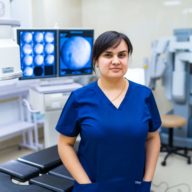 Lenska Oksana Pavlivna
Advanced hospital nurse
Total experience – 15 years.
Specific work experience – she has assisted urologists for 7 years, including surgery.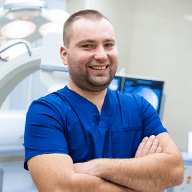 Kaminskyi Valerii Vladyslavovych
Urologist
Total experience – 13 years.
Specific work experience – more than 1000 endoscopic interventions in all parts of the urinary system.
Since 2017 – member of the European Association of Urology EAU uroweb.org
2017, 2018 – internship at the Endourology Department of Gentofte Hospital (Copenhagen) gentoftehospital.dk
2018 – participant of the Congress of the European Association of Urology in Copenhagen
2019 – participant of the Congress of the European Association of Urology in Barcelona
2019 – participant of the Congress of Endourologists in Berlin
Telephone: +380979087265
Patient feedback

Ви дуже чудовий лікар, я надзвичайно задоволена результатами обстеження та лікування. Рекомендую всім, хто має хвороби нирок та сечовивідних шляхів 👍👍👍💪💪💪

Лікар від бога👍👍👍Дякую Вам за лікування мами👍👍👍

Валерій Владиславович дуже хороший лікар, лікар з великої букви. Потрапивши до нього він виявив проблему, яку ніхто не помічав і вилікував. Такого лікаря толкового рекомендую знайомим.Ви профі👍👍👍

Стефуняк Ольга Олексіївна
Доброго дня! Хочу висловити щиросердечну подяку медичному центру Інномед ( Хмельницька шосе, 96г) за комфортні умови, привітних та доброзичливих працівників, а саме :Камінському В.В.(лікар-уролог),Пузирьові О.І.(лікар-анестезіолог),та медсестрам оперативного і стаціонарного відділення вам окреме спасибі за професіоналізм, увагу, підтримку та турботу!!!

Хочу подякувати Валерію Владиславовичу за професіоналізм і бажання і вміння допомогти. Лікар і людина з великої букви. Бажаю процвітання і успіхів у непростій справі.